TAP-NY Taiwanese Inspired Cocktail Workshop
May 18 @ 6:30 pm

-

9:30 pm

EDT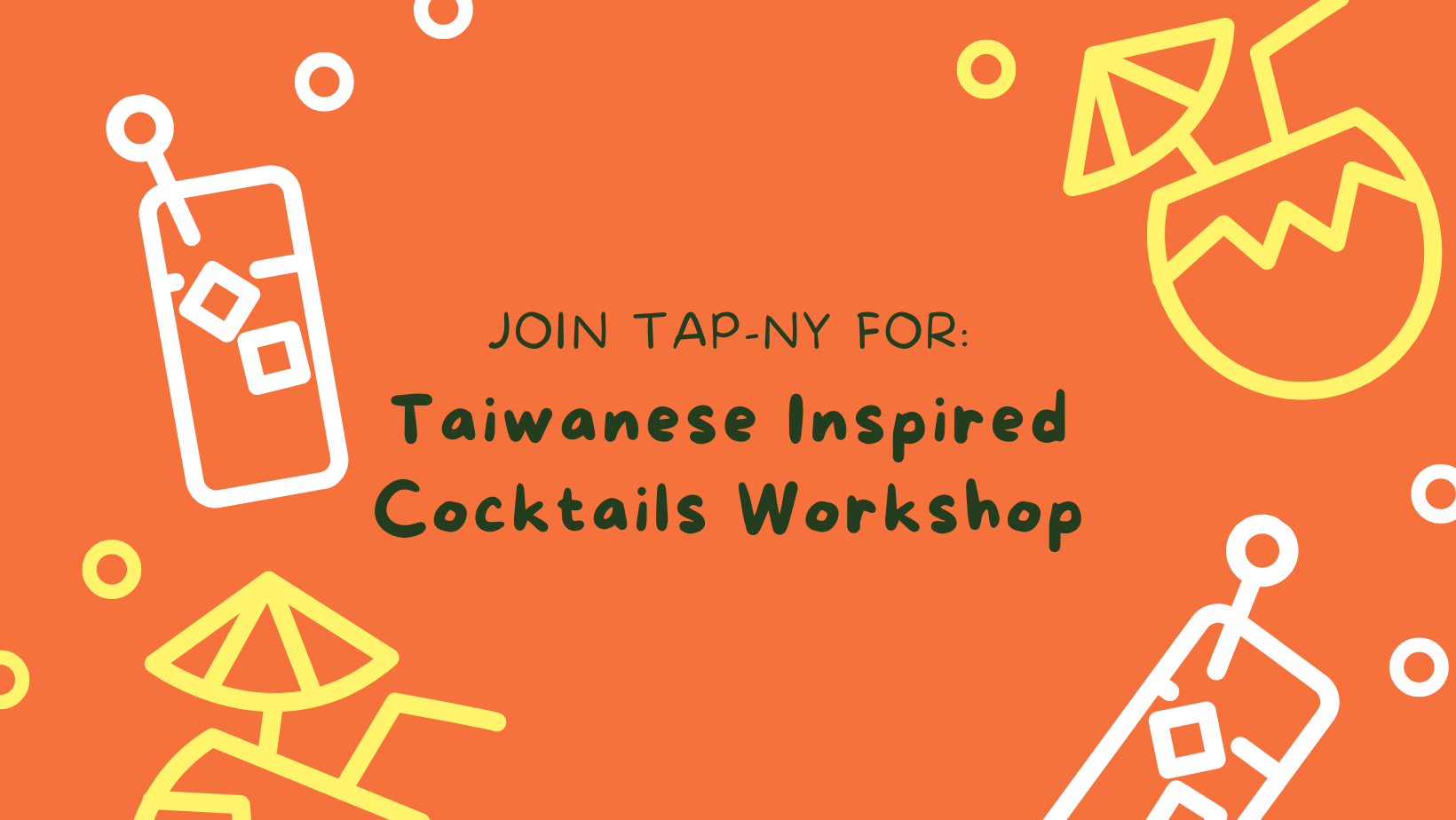 Join TAP-NY for a Taiwanese inspired cocktails workshop!
Join this special workshop led by TAP-NY members, Eric Lin, where you'll learn everything you need to know about how to make the best milk punches at home, and explore how to add a Taiwanese twist to your cocktails. We'll taste a number of pre-made clarified milk punches during the workshop, and you'll get your hands dirty and make your own mini-bottle to take home as well!
What We'll Do:
In this part tasting, part hands-on workshop, you'll learn everything you need to know about clarified milk punches, a molecular mixology technique dating back to the early 1700s. You'll taste a variety of milk punches inspired by Taiwanese flavors, from classic to experimental, and then you'll get your hands dirty and make your own. The workshop and tasting will last around 3 hours. This workshop is vegan-friendly, and we'll also cover milk punches made from non-dairy milks. Location will be in Koreatown and will be sent to attendees the week of the event.
Equipment:
Everyone will need 1) a v60 coffee dripper, and 2) a small 16oz mason jar. If you have these on hand, please bring these to the workshop. If not, we can order these on your behalf, for which there will be an additional charge.
About clarified milk punches:
Clarified milk punches are experiencing a modern-day revival: these days, any cocktail bar worth their salt seems to feature at least one on their menu. Neither shaken nor stirred, the clarified milk punch is tart, sweet, silky, and buttery-smooth on the tongue, yet unexpectedly crystal-clear. In short, it's an alchemical marvel, a cocktail sensorial illusion.
Yet, despite giving off cutting-edge, molecular gastronomy vibes, it's a cocktail–and a technique–with a storied history. It predates classic cocktails like the old fashioned and the martini by almost two centuries, with the first verifiable reference dating back to 1711. The technique is surprisingly easy to master, and you can make clarified milk punches at home with little or no specialized equipment or ingredients.
-—
COVID-19 Policy
We require all attendees to be fully vaccinated, meaning the attendee has received all recommended COVID-19 vaccines, including any booster dose(s) when eligible.
SAFER SPACE Policy
TAP-NY creates events for everyone to feel welcome. We have a zero tolerance policy for harassment, unwanted touch, and discrimination. If someone is making you uncomfortable, please let a TAP-NY board member know.