This month, we say goodbye to four TAP-NY board members. We asked them to reflect on some of their favorite TAP memories and experiences – see below for their thoughts and memories of their time on board!
Jess Ching, Outgoing Treasurer
Julie Shen, Outgoing President
Matt Chen, Outgoing Professional Chair
Sarah Sayavong, Outgoing Marketing Chair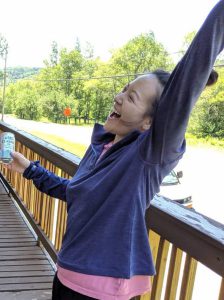 Jess Ching – Outgoing Treasurer (TAP-NY Board 2019-2021)
1) What was your favorite TAP memory and why?
This is always the cop-out answer but — there's way too many to name! Being on board for three years, I've loved all the moments I've been able to bond and connect with fellow TAP and board members, whether through more formalized events (LNY banquets, boat parties, etc.) or informal get-togethers (concert pre-games, Taiwan trips, etc.).
2) How has TAP helped you grow as a person and as a member of this community?
TAP has undoubtedly left an indelible mark on my professional network, accounting skills, cultural knowledge and appreciation, sense of self, social life, and (most of all) liver and health. I've met so many fun, incredible, and like-minded individuals, many of whom will remain close friends for years to come. I can't wait to continue my involvement and pass along my insights next year as an alum, mentor, and friend to the TAP community.
3) What are some words of advice you would give to incoming board members?
You get what you give – take this opportunity to absorb, learn, meet new people, and challenge yourself. Most importantly, have fun! I'm sincerely jealous of all the fun times and memories you're guaranteed to have next year, so YOLO.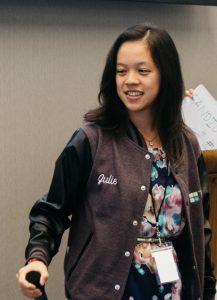 Julie Shen – Outgoing President (TAP-NY Board 2016-2021)
1) What was your favorite TAP memory and why?
Everyone says there's too many good ones to just choose one, and it's the truth. However, I'll reduce my favorites down to one for each year I've been on board:
2016 / 3v3 Charity Basketball Tournament: Hosting this allowed me to combine my loves of the sport and service. I enjoyed bringing people together for some competitive fun, witnessing the skills and sportsmanship on the court, and working with and supporting University Settlement.

2017 / OCAC Taiwan Trip: This was my first time spending an extended period in Taiwan with friends (including those from TAP chapters across the nation), and there were so many incredible memories in this trip alone, from learning to make dragon's beard candy to late nights at 7-Eleven to meeting the Vice President.

2018 / Ski and Snowboard Trip: Coordinating a weekend ski trip for 75 people is no easy feat, but this was such a rewarding endeavor seeing people meet and become close friends, try skiing for the first time, and simply have fun. Shoutout to my partner-in-crime Jen and our TAP-BOS counterparts for planning this together and enjoying it so much we did it again in 2019!

2019 / TACL Convention in OC: We have two conventions a year held by different TAP chapters, and these have always been a great way to connect with other board members around the US. I particularly enjoyed this convention in sunny OC, complete with a boat party banquet and bookended by trips to Joshua Tree and LA with TAP friends.

2020 / Lunar New Year Banquet: Aside from the joys of going virtual (jk…), this was our last large event before COVID-19 shut everything down. I'm thankful I got to ring in the new year with everyone and that my immediate family (including my grandmother) was able to attend!

2021 / Retreat: This was the first time our entire board was able to get together in-person since the start of the pandemic, and if there's one thing I've learned from these two years, it's to cherish every moment we have with each other. I was so grateful our board could be together – happy, healthy, and maybe a bit too competitive with our drinking games.
2) How has TAP helped you grow as a person and as a member of this community?
It has been a privilege to serve on the TAP-NY board and to lead the organization over the last several years, and I've grown tremendously as a leader and individual. These last two years with the pandemic were the most trying times, but also ones that pushed me the most to new levels of growth. From making quick judgment calls on whether to continue hosting in-person events with the initial news of COVID-19 to finding ways to bring people together virtually (picking up how to livestream was oddly fun) to figuring out how to lead and inspire a board and a community to forge forward in these uncertain times, the pandemic gave me some uncharted leadership experiences. Through these times, I learned the importance of having a north star and seeking help. The health and happiness of the board were my priorities as the board is the engine that powers TAP-NY, and constantly putting this at the forefront allowed me to more easily make decisions, especially with minimal information. Moving to a virtual environment was undoubtedly difficult, and this combined with the renewed light shed on racial inequities and other external stressors led to some demoralizing times personally. I've learned to share my feelings more openly and to ask for help and am grateful for the strength I found from friends and fellow leaders in this community.

Keeping an open mind and a sense of curiosity has led me to many interesting and diverse conversations, experiences, and knowledge (even resulting in me moderating a beauty and fashion panel – people who know me know this is definitely not my area of expertise). I've learned more Taiwanese traditions and now more fully embrace my Taiwanese roots. Most importantly, I've made this incredible group of friends that I know will continue to teach, support, and inspire me in the years to come.
3) What are some words of advice you would give to incoming board members?
This is hands-down one of the most fun, supportive, and engaging communities I've ever been a part of, and I'm so excited for you to now experience this. This is truly an organization where you get what you put in, and I say go all in 110%, but never feel that you're doing this at the sacrifice of something else important to you. Bring your friends (and coworkers) in and make new ones, incorporate your interests into your events, and go in with an open mind and heart. Make this experience uniquely yours, and you will find it to be so fulfilling.

Invest in the relationships, be it members, board, alums, or other TAP chapters – they will become your closest confidants, travel buddies, roommates, and everything in between.

Lastly, just have fun and know that I'll be rooting for you all with the alums! #tapislife

Thanks to our alums before me for laying the foundation for TAP-NY, to my fellow board for the lit times to make the most of this pandemic, to future boards for carrying the torch forward, and to our members and partners for making this community so special. See you on the flip side at TAP events!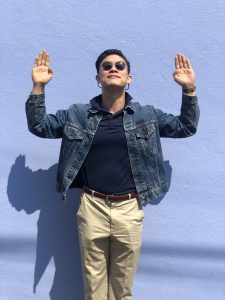 Matt Chen – Outgoing Professional Chair (TAP-NY Board 2020-2021)
1) What was your favorite TAP memory and why?
There are countless events and gatherings that come to mind when I reflect on my time on board and with TAP. From lunar new year banquets, and ski trips to Board retreats and conventions, there has been so many spectacular, fun and fulfilling memories that always come to mind.

That being said, when it comes down to it, my true favorite TAP memories are the small individual interactions that I have had with community and board members that prove to be significant. Meeting new faces at TAPpy hours and monthly dinner series or spending one-on-one time developing deeper relationships with TAP board members and alumni – these are the memories and experiences that have truly made an impact in my life.
2) How has TAP helped you grow as a person and as a member of this community?
When I first joined TAP, my goals were primarily centered around expanding my social circles within the Taiwanese American community here in NYC. Little did I know, TAP had so much more to offer.

Throughout my time, I have been able to not only grow my community here in NYC but also to become more culturally and socially engaged in serving the community. I have developed personal and professional relationships across the country both within the national TAP org and outside of the org through partnership events and groups.

I really look forward to continuing to develop these bonds and relationships even after I finish my time on board.
3) What are some words of advice you would give to incoming board members?
Lean in, have fun, and don't be afraid to ask for help!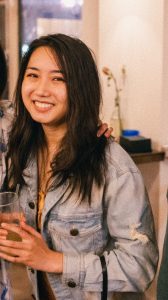 Sarah Sayavong – Outgoing Marketing Chair (TAP-NY Board 2018-2021)
1) What was your favorite TAP memory and why?
There are too many to count, as the range of experiences I've been through with TAP is vast and varied! I started out as a TAP member participating in the volunteering events, such as gardening, city cleanups, and staffing community events. Those were always the most satisfying events for me! As a board member, our annual retreats where we bond over fun games and food have always been a highlight of my years. It's nice to take our board hats off and relax with one another in between planning all the great things we can do for our community!

Specifically for the past year, things have been hard with a global pandemic present, but true to the resiliency and brightness of our community, we've made some special memories. In early 2021, our (then) new Community Chair Emily led a partnership with the Chinatown Business Improvement District to clean up the sidewalks around stores and restaurants. The first time we went out with them, we were testing out the volunteer opportunity and just had three of us participate. Chinatown was still getting back on its feet, and the shop owners were so grateful to have us there. They came out to say hi to us and thanked us profusely. Moments like these show how appreciated our work could be.
2) How has TAP helped you grow as a person and as a member of this community?
The opportunity to participate in a large array of events helped me realize my extroverted side and far more interests than I ever thought I would have. I feel a lot more comfortable talking with people from all walks of life. If you can believe it, I was far more introverted before I joined TAP and didn't often talk to people outside of my own, small circle. Certainly, my circle has expanded through TAP, with lifelong friends among members, board members, and community partners. I now also have the experience and skills to engage with people I have yet to meet, to make them feel welcome, and to work together on ways to improve our community!
3) What are some words of advice you would give to incoming board members?
As a board member, you come in with a large community of alum behind you and probably far more resources than you realize. Please don't hesitate to reach out to any of us individually or as a group if you want any help with your board activities or even your own personal goals and curiosities!