In this month's edition of Member of the Month, we chatted with Andrew Yip. Check out his interview below!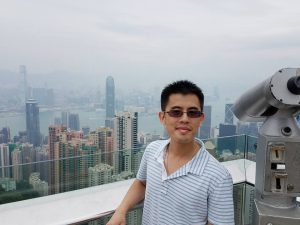 Tell us about yourself! It can be about anything – where you grew up, your professional background, your hobbies, etc.
Hello! I'm Andrew Yip, just a simple Asian guy from Brooklyn! As you can guess, I was born and grew up in Brooklyn, NY – and then for a few years in Buffalo, NY where I did my undergrad from 2008 to 2012. I chose SUNY Buffalo for my undergraduate college because after a while of growing up in NYC, I wanted to get out there and see what else is out there, outside of my hometown. I like to explore new places, since I do believe that adventure makes a very good part of life. And I certainly do not regret choosing Buffalo, as I made more friends during my college days there. Furthermore, after spending a few years up in cold & snowy Western New York, I can take the snow in NYC like it's nothing for the most part (HAHA).
I currently work as an assistant project manager at an electrical subcontractor (construction) company. We basically do the electrical installation (installing & wiring panelboards, light fixtures, outlets, and other such equipment) for mostly commercial & residential buildings. I work mainly in the office, but I also go out to the job site to oversee the project progress and address any issues that occur. It's pretty cool because I get to see how the building gets constructed, which is a great learning experience for me. I'm also a part-time graduate student at NYU Poly (which is now officially called NYU Tandon School of Engineering), working towards a master's degree in electrical engineering. It's not easy to balance full-time work with part-time grad school, but I get by and still make some time for the good and fun days.
Why did you join TAP? What are your favorite events?
I joined TAP-NY because of the wide variety of events that TAP has to offer. In addition to the networking and happy-hour get-togethers, the community service/volunteering events, sports events (hip-hop dancing and snowboarding, for example), and adventuring/travelling events that I saw on TAP-NY's website really caught my attention and enticed me to join TAP. Furthermore, TAP-NY strives to create opportunities for personal growth, professional growth, social growth, and community involvement for its members. This is a cause that I believe in, which is why I support TAP-NY by coming out to these events. They are great opportunities to have fun, enjoy life, befriend new people who you can help and be helped by, and grow as a person. So far, I would say my favorite event is the TAP Halloween Party because many people are all dressed up in awesome and creative costumes during this event, which is certainly fun and humorous.
Tell us something cool that happened to you this past year.
This actually feels like a slightly difficult question to answer for me, haha. The reason is that I am usually busy with both work and grad school, so I can't say I have a whole lot of fun or cool things coming my way this past year. But, I took a small break from school for the summer (of 2017) to relax. I started going to more networking meetups during this time, starting with Asian Ivy League and NYAPM (New York Asian Professional Meetup) networking events which just so happened to pop up on my Facebook news feed at that time. Part of this was to recover my social life which went down the drain (no lie) and part of this was also to network with other working professionals. Through word of mouth, I found out about TAP-NY (and it also randomly appeared on my news feed as well). My first TAP event was the TAPpy Hour event at Circle in late September 2017, and my second event was the Mid-Autumn Festival at MOCA (Museum of Chinese America) shortly after. That was how I got to meet the E-Board members such as Alex Shih, Jen Nguyen, and Kevin Wong. From there, I attended more TAP-NY events, NYAPM meetups, and a few other meetups from which I made many more friends and connections while having great and fun times (happy hour networking and learning how to dance better, just to name a few). So this is indeed one great thing I can say happened to me the past year… though if I said to my past self just a few years back that all this happened, my past self would probably be quite surprised…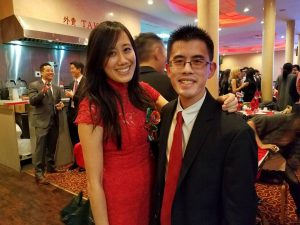 If we wanted to hang out, where would we find you?
Probably in a library in NYU Manhattan or Downtown Brooklyn campus, due to me being a grad student. I know, BORING!!!
Aside from that, the easiest place to find me is in Brooklyn. I would also hang out in Manhattan (usually the Downtown and Midtown areas) and sometimes Queens (usually Flushing). I'm trying to find more chill spots to eat and relax in whenever I have some free time with close friends.
What's your advice for newer members who want to get more involved?
TAP-NY is very welcome to everyone, even if you're not Taiwanese or Asian. So don't be afraid to join and come to the events. As I mentioned before, there's a wide variety of events that TAP has to offer, such as networking and happy hour meet-ups, snowboarding and skiing, adventuring out of NYC, and volunteering/community service events just to name a few examples. Furthermore, there are many people of different backgrounds (both in terms of where they're from and what they do for a living), and it's great to meet these people in TAP because it widens your exposure to life. I believe in meeting new people from different places and professions to learn new things from them and also to help them whenever possible and needed. It's a great way to make new friendships and connections, which TAP-NY provides many opportunities for.