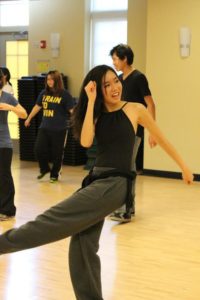 1. Tell us about yourself! It can be about anything – where you grew up, your professional background, your hobbies.
I'm a one year Midwestern transplant. Growing up in southern Illinois in a town of 5,000 doesn't exactly prepare you for big city life, but with help from my friends, my sister (who's here for school), and my boyfriend, I've adjusted quite well! Currently, I'm a data analyst (SAS! Macros! Programming!) for the NYC Independent Budget Office. We're like the Congressional Budget Office but for the City of New York.
Nearly 80% of my free time is spent fawning over my cat Yzma (pronounced EEZ-ma). I am unabashedly a self-proclaimed cat lady. The other 20% is split between dance class for fun and fitness and hanging out with friends, many of whom I met at TAP! Although now, Pokémon Go is starting to take over some weekends now that my sister is more inclined to trek into Manhattan from Queens to visit me. (Really, she's here to catch Pokémon, but visiting her big sister is good pretense).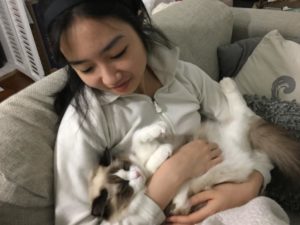 2. Why did you join TAP? What are your favorite events?
A friend of mine on the board (hi Jess Y.!) had a last minute seat opening at her Dinner Series event which was on the day I moved to New York. She texted me to see if I was free for dinner that same day, and I said yes! Everyone was welcoming and down-toearth, so I was super excited to try more events. TAP events are so diverse in activity, but I would definitely say that anything involving volunteering in the community (New York Cares), dancing (Dance Roulette), and eating food (Dinner Series) are my favorites!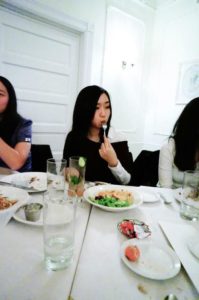 3. Tell us something cool that happened to you this past year.
Two of my college friends got married in Hong Kong! The hubby wanted us to come celebrate the auspicious occasion and spend time with him before the wedding, so a bunch of us went a few days before the wedding in order to explore his beloved city with him. There, we all survived hiking a mountain in the hottest and most humid weather I've ever experienced, lavished attention on some pampered cats at a cat café, and, of course, stuffed ourselves silly with a lot of delicious food. Can anyone ship me food from Hong Kong?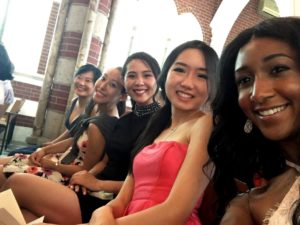 4. If we wanted to hang out, where would we find you?
Honestly? You would most likely find me at home with my cat in front of my television with Netflix, HBO, YouTube, or Crunchyroll playing in the background. Out and about, I tend to meander around the Midtown Manhattan branch of the New York Public Library after work, picking out books for my commute. On weekends, I am currently gravitating towards Greenwich Village, because of its concentration of dessert places. Someday, I'll branch out into the other boroughs!
5. What's your advice for any newer members who want to get more involved?
If you're shy, try a smaller event, such as the dinner series events. It's easier to get to know people in a small group setting over good food. Also talk to the board members at any event. They're super welcoming, down-to-earth, and more than welcome to answer any questions you might have! Finally, don't be afraid to ask to exchange numbers or social media info with any new friends you make at events! I've been hanging out with my TAP-made friends both inside and outside of TAP events. It's great to be able to message my friends when I see the TAP newsletter and say, "Hey, TAP just announced a new event that looks really cool! Want to go? =D