TAP-NY x Anchor Taiwan x ERA: U.S. and Taiwan Tech and Startup Trends in 2020
February 5, 2020 @ 6:30 pm

-

9:00 pm

EST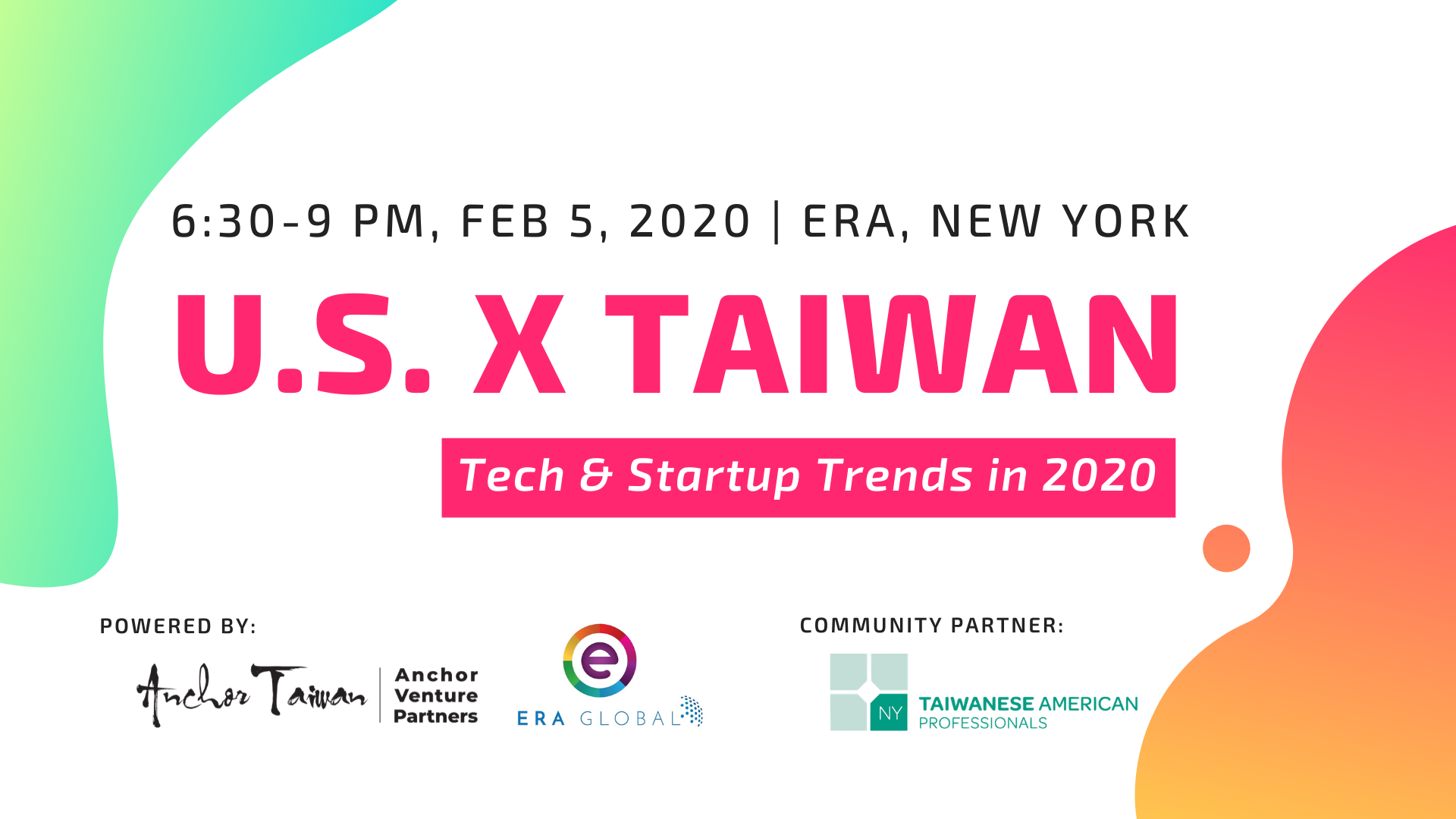 Trade war – opportunity or crisis for the US x Taiwan startup ecosystems?
In the shifting sands in the world, how do you build up your cross-border "resource portfolio"?
As we kick off the new decade, we will go through insights from practitioners, investors, and entrepreneurs on the ground. Join us if you are:
● Curious about what, when, and how to leverage New York and Taipei tech ecosystems
● Looking for partners and investors in US and/or Taiwan
● Eager to learn about resources in Asia (e.g., hardware, supply chain, talent)
Walk away with meaningful connections, insightful case studies, and a boost for your cross-border acumen!
TAP-NY is partnering with Anchor Taiwan to host this event. TAP members get a special discount – use promo code TAP10OFF for 10% off. Please bring your government ID for the building security.
AGENDA
6:30pm Door Open
6:30-7:00pm Pre-session Happy Hour
7:00-7:05pm Opening Introduction
7:05-7:20pm Iynna Haliou (startup resources in NYC)
7:20-7:35pm Elisa Chiu (startup resources in Taiwan)
7:35-7:50pm TBD
7:50-8:20pm Panel Discussion
8:20-9:00pm Further Networking
ABOUT THE SPEAKERS
▧ Iynna Halilou, Global Programs Manager | Entrepreneurs Roundtable Accelerator (ERA)
Iynna is the Global Programs Manager at Entrepreneurs Roundtable Accelerator, New York's largest early-stage startup accelerator and venture capital (VC) fund. In her role, she is responsible for building partnerships with global startup ecosystems; identifying investment opportunities globally; creating and running US market-entry acceleration programs for the startups. She is a frequent speaker on the topics of global entrepreneurship, VC and the overall tech ecosystem in New York.
Prior to ERA, she ran Yunus&Youth, Nobel Prize Laureate Muhammad Yunus' social impact digital global accelerator to support the growth of social ventures across the world. She was also the first Archimedes Project Fellow through which she moved to Cameroon to start a sanitation venture whose mission was to provide access to toilets to the 1M individuals in marginalised communities in the city of Douala.
Iynna is originally from Cameroon and Madagascar, by way of Paris (France), the UK, Senegal and now New York. She holds a Master in International Affairs from NYU and a Bachelor in International Relations and Spanish from Durham University, in England.
You can find her active on LinkedIn: @iynnahalilou or Twitter: @iynna_halilou
▧ Elisa Chiu, Founder & CEO | Anchor Taiwan
Elisa Chiu is an entrepreneur and investor who operates at the intersection of tech innovation, strategic investment and cross-border collaboration. She sailed from Wall Street with a decade of experience at top tier investment banks and hedge funds, overseeing US$1 billion+ assets in Pan Pacific Asia. In 2017, she founded Anchor Taiwan, an award-winning platform to provide industry access and market immersion for soft landing in Asia. Deeply committed to bridging cultures through entrepreneurship, she works with world-class founders and executives from Y Combinator, 500 Start-ups, Microsoft, Uber, Intel and many more.
In 2019, Elisa set up Anchor Venture Partners, an early stage investment platform to combine her passion for start-ups and her expertise in capital markets. She is also a highly sought-after speaker for tech conferences with recent appearances at Stanford University, Infinity Ventures Summit, APEC O2O Summit, Global Harbor Cities Forum, to name a few. Elisa was awarded 40 Under 40 Women in Tech in 2018, and recognized as one of the 30 Women Power by New Taipei City Government in 2019.
ABOUT ANCHOR TAIWAN
Anchor Taiwan is a platform for world-class entrepreneurs and professionals to experience and succeed in Asia through Taiwan. Since its inception in 2017, it has hosted top founders and executives from Y Combinator, 500 Startups, UBS, Deutsche Telekom, Warner Bros., Uber and Intel, to name a few. Specializing in curation, mobilization and execution for win-win cross-border collaboration, Anchor Taiwan provides business advancement and market/cultural immersion for its members while engaging and empowering local communities.
ABOUT ERA
ERA is New York's premier early-stage investment fund and the first and the largest tech startup accelerator program in New York City. ERA has invested in 208 startups since 2011 across 18 accelerator classes. These companies have raised more than $500M and they are worth over $4B as of November 2019. ERA operates with the support of the largest mentor network on the East Coast, with 500+ mentors, 11 Venture partners and 35 corporate partners/sponsors.
ERA Global was started in 2015 to support promising and fast-growth global startups and scaleups enter the US market through intensive US market-entry acceleration programs, run at ERA's offices in New York City. ERA Global works with over 30 public and private partners across the world and takes full advantage of ERA's deep expertise and large network to help talented founders change the trajectory of their businesses.