TAP-NY x Lunar x 886 Lunar New Year Celebration 2021
February 27 @ 7:00 pm

-

9:00 pm

EST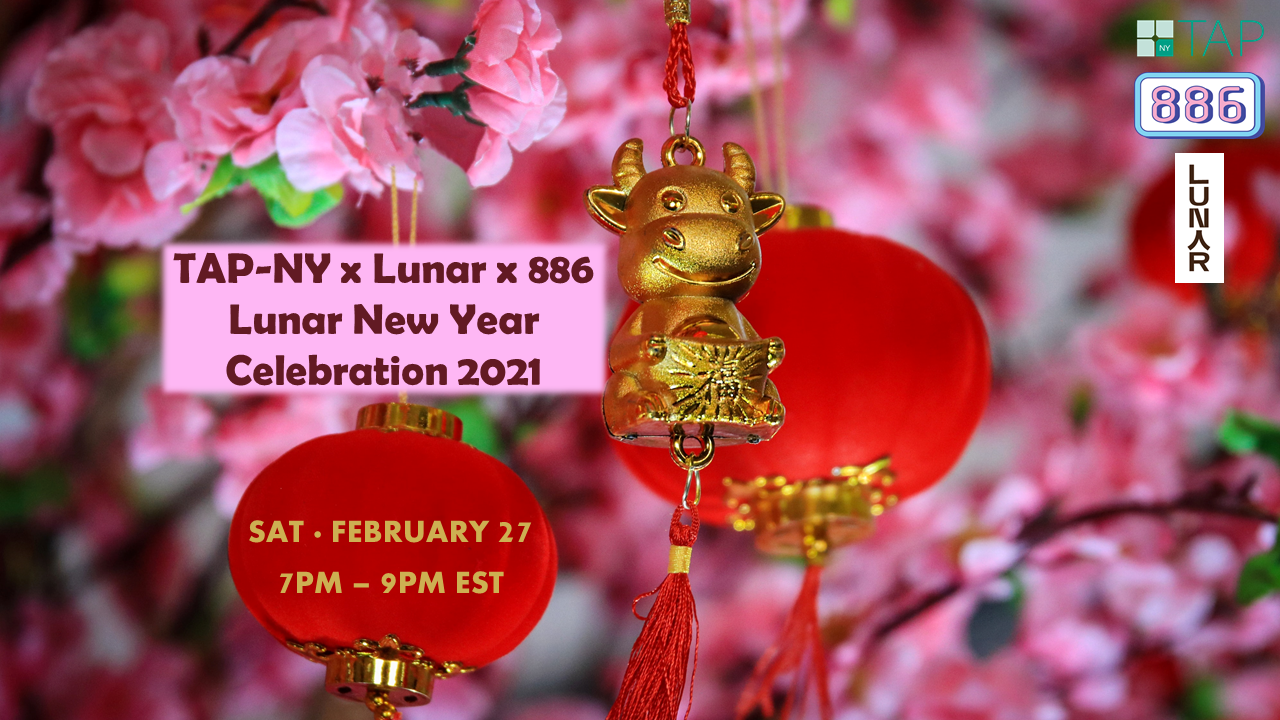 Update: Orders are closed for our food/drink bundles, but you can still register for the party entry tickets here for $8/person!
---
Ring in the Year of the Ox with our TAP-NY fam! In lieu of what would've been our 14th annual Lunar New Year banquet, we're hosting a virtual celebration and bringing the party to you. Through a special collaboration with Taiwanese American-owned businesses 886 and Lunar, we're serving up dinner, drinks, and games to the comforts of your home!
Our virtual celebration will be held on Saturday, February 27, 2021 from 7PM to 9PM EST on Gather. In addition to the exciting food and drink offerings below that we will deliver to your home, you will have the opportunity to meet and celebrate with other TAP members and enjoy our specially themed games. Get your fun, festive outfits ready!
Register for the event and place your order here. Venmo @tapny with memo line "[Full Name] LNY [# of bundles] [# of additional kits] [# of additional Lunar 4-packs] [# of entries]" (e.g., Jade Ox LNY 2 bundles, 1 kit, 1 Lunar, 1 entry), and we'll follow up via email to confirm your order.
What You'll Get
We're offering an exclusive 886 x Lunar bundle for $85, which includes the following:
6 frozen dinner kits from 886 – customize between Beef Noodle Soup and Lo Ba Beng (braised pork belly over rice)

1 Lunar hard seltzer four-pack – choose from Yuzu, Lychee, or a mystery flavor

Delivery to your home*

1 entry to the party
Delivery is only available within Manhattan, Queens, and Brooklyn. Additional dinner kits are available at $12 each, four-packs of Lunar at $14 each, and party entry at $8/person. 
The frozen dinner kits from 886 are a freezer staple and heat up to homestyle quality in ~5 minutes (see if you can beat that)! Pair it with a Lunar for a perfect combination.
If you are placing a food/drink order, the minimum purchase is a bundle to qualify for the deal – once you hit the bundle minimum, you can order as many additional dinner kits and Lunar four-packs as you'd like. We will accept food orders until Thursday, February 18th, at 6PM EST, to ensure delivery before our event. You're welcome to only purchase tickets to the virtual celebration, but what fun is that without good food and drink! Delivery days will be determined after the order period closes. Please note that all deliveries will happen the week of February 22nd on the weekdays. We will notify you as soon as delivery days are confirmed. 
Food Description (check out 886's Instagram for a preview of what you'd get)
Beef Noodle Soup – 16 hour grass-fed broth, market fresh noodles, braised beef shank and greens

Lo Ba Beng – Braised pork belly over rice, complete with house-made mustard greens
Flavors of Lunar
Yuzu – A fresh, bubbly version of honey citron tea that'll brighten up any occasion. Tickle your taste buds with yuzu's iconic floral aromas and tartness. Made with fresh yuzu grown in Japan's coastal Shimane Prefecture.

Lychee (new release!) – Our homage to a childhood favorite – lychee jelly cups. Except this time, you'll actually want to share. Made with nectar from lychees grown in Southeast Asia.

Mystery Flavor (upcoming release!) – We can't share that with you yet, but we can guarantee it'll be yummy! 
Where We'll Hang
We'll be hanging out on Gather. Play games and socialize like we would have in real life. The gathering (not food/drink) will be open nationwide, so come meet new members from across TAP chapters!
Let's support local Taiwanese-owned businesses and show them we're #NYCstrong! 💪 Any questions? Email Emily Oing or Julie Shen.
---
About the Businesses
886 is a Taiwanese restaurant located in East Village, which opened in 2018. Through 886, owners Eric Sze and Andy Chuang aim to fuse their Taiwanese upbringing with American modernization.
Lunar is founded by Sean Ro and TAP-NY board alum Kevin Wong. Drawing from childhood memories and the flavors of our parents' cooking, they started brewing out of their apartments in NYC. 100+ recipes and many trips to Asia later, they finally created a recipe that perfectly blended authentic Asian flavors with the modern hard seltzer. Now ready to be part of your family dinners and nights out, they're eager to share with you this one-of-a-kind piece of Asian Americana (in a can).
*TAP-NY reserves the right to not deliver if there are not enough deliveries in your area. If we are unable to deliver to your address, we will notify you asap and refund your full payment.