TAP-NY March Dinner Series with Kelly and Reggie
March 22 @ 7:00 pm

-

8:30 pm

EDT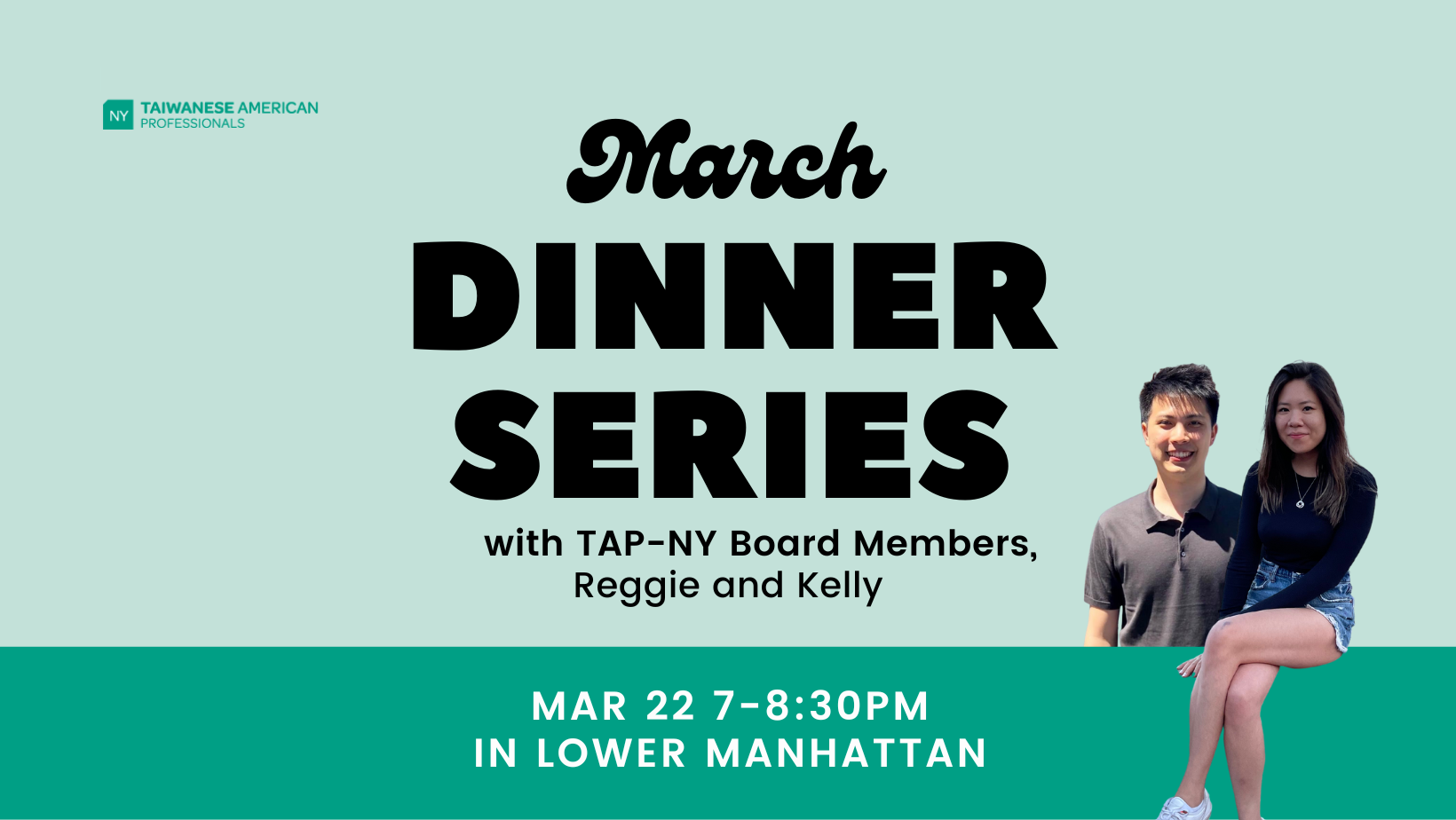 Join TAP-NY board members Kelly (President) and Reggie (Cultural/Tech Chair) for our March Dinner Series!
The TAP-NY dinner series is a great way to enjoy a good meal with a fun group of people, including two TAP board members, to learn more about our organization and what events we have coming up.
About Kelly and Reggie
Kelly was raised in Maryland and attended Emory University, where she studied Political Science and Economics. After graduation, she moved to NYC and currently works in the crypto industry. In her spare time, Kelly enjoys attending concerts, making bagels and working out at Barry's to burn off all the bagels consumed.
Reggie is Taiwanese-Canadian, born in Taichung and grew up in Vancouver. He is an architect and product manager at a construction tech company. He enjoys playing tennis, hiking, swimming, snowboarding, and ice hockey so don't hesitate to reach out to him if you want to get a game going.
Registering for the Event
Because of heavy demand for dinner series, we have a lottery process for sign-ups:
Sign-ups for the dinner series will close Saturday, Mar 18, 2023, at 11:59 pm ET, after which attendees will be randomly selected. Replying to our confirmation email, should you receive it, is required to attend.
Exact restaurant name will be provided to randomly selected attendees.
Note: While registration for the event is free, individuals are responsible for covering their own meal. TAP facilitates these dinners to help members get to know each other in an intimate setting.
—
COVID-19 Policy
We require all attendees to be fully vaccinated, meaning the attendee has received all recommended COVID-19 vaccines, including any booster dose(s) when eligible.
SAFER SPACE Policy
TAP-NY creates events for everyone to feel welcome. We have a zero tolerance policy for harassment, unwanted touch, and discrimination. If someone is making you uncomfortable, please let a TAP-NY board member know.