This month, we interviewed our superstar member Jane Yang and got to know her! Read her responses below: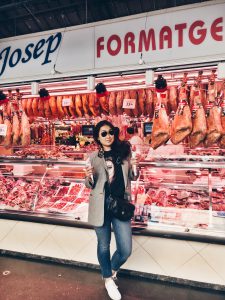 Tell us about yourself! It can be about anything – where you grew up, your professional background, your hobbies, etc.
I grew up in Toronto, Canada.  I majored in Mathematics at the University of Waterloo and started my career in Finance.  I moved to New York 5 years ago for work, but was soon inspired by the creative and innovative energy in New York to start my own company.  I recently just co-founded my own company, Cadence, which is a blockchain platform for alternative investments.
In my down time, I love working out, but only so I can enjoy all the tasty cuisine in the city.  I was a varsity athlete in college (rugby), so I love watching live sports. (Go Raptors and Blue Jays!) I also love getting away from the city either to the Hamptons or abroad.  My favourite international destinations are Paris, Hong Kong, Mexico City, and all of Slovenia.
Why did you join TAP? What are your favorite events?
I joined TAP because I wanted to have a bigger Mandarin-speaking network.  Growing up in a predominantly-white suburb, I didn't have many Asian friends.  It's so nice to finally meet people who share my culture, my language, and my taste for exotic food.  Most importantly, it has been very helpful for my personal development to meet people who have experienced the same struggles of straddling Western and Eastern cultures, as well as the hardships of immigration and the "tiger" upbringing.  It's very comforting to know that I'm not alone in my growth. It's also very inspiring to see so much Asian excellence in the other members.
My favourite events are the volunteering events.  It feels great to give back to the community. And we always go for yummy food afterwards!
Tell us something cool that happened to you this past year.
Co-founding a FinTech startup is definitely the highlight of my year.  My co-founder and I saw a gap in the private capital market and came up with an incredible solution to address the issues.  By fractionalize ownership of commercial finance investment vehicles, we are democratizing alternative investing to an investor base beyond selective high net worth individuals and institutions.  I was definitely hesitant to jumpstart the project at first. As a woman, we are always waiting for the right time. When we get a chance, we have to be perfect out of the gate because we might not receive another opportunity.  But recently, I was encouraged by Michelle Obama's interview with Tracee Ellis Ross where she said "So many of us have gotten ourselves at the table, but we're still too grateful to be at the table to really shake it up, for so many, just getting to the table was so hard, so you're just holding on. But now we have to take some risks for our girls." I am really looking forward to the next year on how Cadence will grow.
If we wanted to hang out, where would we find you?
I love the arts and many of my good friends are in creative industries.  So you can find me hanging out with them at one of the Soho Houses or at Members' Night at the Whitney Museum.  I am also an avid golfer from a young age, so I go to the driving range at Chelsea Piers few times a week. If anyone wants to hit up galleries or the driving range, let me know!
What's your advice for newer members who want to get more involved?
My advice for new member is: do not be afraid to hit up TAP events solo and introduce yourself.  Almost everyone I've met at TAP is super friendly and respectful. I felt welcomed right away when I started going to events.  And if you are still intimidated to attend events by yourself, let me know and I will go with you!