Member of the Month: Barry Cheng
Tell us about yourself! It can be about anything – where you grew up, your professional background, your hobbies, etc.
I am a New Jersey native who frequents into New York City for work, meeting up with friends, and discovering new eats and up and coming restaurants. I'm currently working at a marketing agency where I have an incredible opportunity to develop and execute digital marketing strategies for one of the largest automotive brands as our client, an industry I have a strong passion for. As a car enthusiast, I read car reviews and automotive news on a constant basis, show up for auto shows and racing events, willingly assist my family with their car maintenance and repairs, and building up my savings as I have my eye on a stick-shift, high performance vehicle I've been dreaming to own. Aside from this, I have been taking up kayaking as the summer is here, exploring historical mansions built during the roaring 20's, and always down for a game of basketball.
Why did you join TAP? What are your favorite events?
I joined TAP as I found it to be a fun and fantastic way to meet people in the city, particularly with young Asian professionals like myself. I still remembered how blown away I was when I attended my first TAPpy Hour after being introduced to TAP by one of the former Social Chairs. Since then, I've been to many more events, with a few of my favorites that includes the boat cruise party, Taiwanese cooking workshops, tech tours, and group volunteer activities with New York Cares.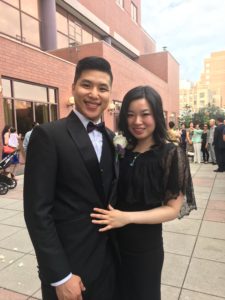 Tell us something cool that happened to you this past year.
I had the opportunity to meet Sung Kang from the Fast and Furious movies when participating as an extra for an upcoming film set in Chinatown, NY! I literally grew up with these movies and to meet someone who was a major supporting cast member was very surreal for me.
If we wanted to hang out, where would we find you?
I'll be driving into Flushing to see my girlfriend as we head to our next weekend outing, get my tan on at the beaches in Jersey Shore, waiting in-line for over an hour for a seat at Ippudo Westside, celebrating agency life at a vendor-hosted rooftop party in Midtown, or find me in the next TAPpy Hour!
What's your advice for newer members who want to get more involved?
Just show up! Some of the most amazing things have happened to me simply because I opened myself to serendipity. This is more so in a very friendly, vibrant, and fun community such as TAP so don't hesitate to take advantage of the wide variety of events TAP offers and don't be afraid to open yourself up with other members!