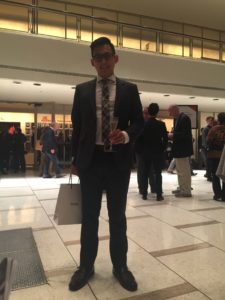 1. Tell us about yourself! It can be about anything – where you grew up, your professional background, your hobbies.
I was born and raised in Los Angeles, specifically the San Fernando Valley, the birthplace of you know, like, Valleyspeak. I went to UCLA and immediately started working in corporate finance at Disney. Four years ago, I got an opportunity to work at an investment bank, and moved out to NYC. Outside of work, I have been pursuing my MBA part time so I have been busy with that the past couple of years. I'm really into history so I enjoy checking out the historic landmarks around the city and going to museums.
2. Why did you join TAP? What are your favorite events?
When I first moved to NYC, I didn't know anyone in the city. I had heard about TAP through some friends, and TAP just happened to have a TAPpy Hour by my place one time so I figured to check it out and possibly meet new people. Since then, I've been able to meet people with all different kinds of backgrounds, and feel fortunate enough to call many of them friends. I've attended many TAP events like TAPpy Hours, dinner series, dinner in Mandarin, and TAP Olympics. The one thing that sticks out as my favorite was helping plan the Amazing Race/Scavenger Hunt a few years ago. It was a great experience to work with the board members and I was glad many people enjoyed it.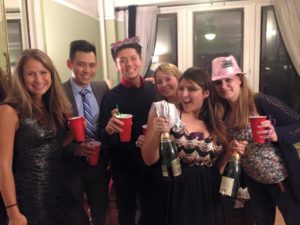 3. Tell us something cool that happened to you this past year.
It hasn't happened yet, but I will be finishing up my MBA in December. It's been a long two and a half years. I honestly do not know what I will do with all my free time after December. On a side note, I think I might be getting used to the terrible NYC weather – I've complaining less about how much better LA weather is.
4. If we wanted to hang out, where would we find you?
Since I don't really cook, I usually go out to eat and have drinks. I'm always open to just hanging out and having a good time. I try to stay active by attending boxing classes when I can. Also TAP events.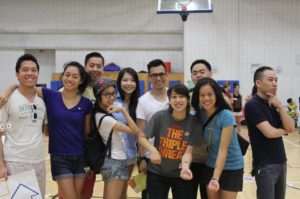 5. What's your advice for any newer members who want to get more involved?
I think people have said it before, but find something you're interested in and sign up. There are so many activities going on that there is bound to be something. I would also recommend getting to know the board members. They're a great group of people, and can introduce you to people and events if you feel overwhelmed.