By Victor J Wang, Advocacy Chair
Tuesday's election will be historic for a number of reasons, and TAP-NY encourages you to get out to the polls to be a part of that history (find out where to go here). If you've already read our voting FAQ but are still on the fence, here are five reasons why you, my fellow Asian American, should be a voter.
1. Vote for the movement
In 2015, the number of registered AAPI (Asian American and Pacific Islander) voters grew to 5.9 million, up from 3.9 million in 2012. This impressive 50% increase has allowed the AAPI electorate to become an important demographic that could decide the outcome of several swing states this year including Nevada and Virginia.
TAP-NY is proud to have taken part in multiple "Get Out The Vote" initiatives, including that of our parent organization, TACL, as well as the more recent #IAmAsianAmerican movement. We've also registered voters at our own events, including January's TAPpy Hour and our Fresh Off The Boat season premiere viewing party.
Even famous Asian American stars, like John Cho and Constance Wu, are encouraging people to vote. Join the movement!
2. Vote for our voice
AAPIs make up about 6% of the US population and have become among the country's highest educated and highest earning demographic. But these statistics mask the numerous problems facing our community – underserved language needs, racial profiling of Southeast Asians, the "bamboo ceiling", and more.
In order to impact change on these issues or others, we need elected officials who will stand up for our interests too. Unfortunately, because AAPIs have not been known to show up to the polls, lawmakers do not pay attention to us us and the phrase "Asian American vote" is seldom heard in the news. This is our chance to say, "Hey, we matter too!"
3. Vote for democracy
The US has been a shining model of democracy for many other countries. Things like term limits, free elections, and freedom of the press have been emulated around the world, including in Taiwan. But despite being a champion of democracy, the US ranks an abysmal 27th in voter turnout on this list compared to other developed countries.
We've been lucky to enjoy the freedoms that we have but it's actually not easy to successfully and peacefully implement a sustainable democracy. In Nigeria, previous elections have seen rampant cases of voter fraud and intimidation, leading to violence on election day. Present day Hong Kong is still fighting for free elections, not to mention the countless other countries that have problematic governments.
Let's not take democracy for granted. Vote.
4. Vote for your parents (and our next generation)
Your parents (or grandparents, etc.) came to America for a better life, understanding that this country provided the best opportunity for their kids' education, security, and economic future. These very ideals are directly affected and protected by our elected officials. Therefore, we must keep voting for representatives who will continue to enact policies that will provide better opportunities for our kids. This means showing up every year to vote at the local and state level too since these elections are much more likely to affect you day-to-day.
On a related note, did you know that senior citizens who speak limited English (also known as LEP or Limited English Proficient) are often turned away at the polls due to language barriers? This is unconstitutional. If your parents or grandparents are LEP, help them exercise their right to vote by accompanying them to the polling station. If there is no interpreter available, you are physically allowed to enter inside the voting booth with them to serve as a translator.
5. Vote for yourself
The Fox News segment and Michael Luo's piece provided a jarring reminder that Asian Americans are still viewed as perpetual foreigners. Asian Americans have faced a long history of discrimination in the US, caught up in vicious cycles of media propaganda and discriminatory legislation. Whether it's from John Chinaman to the Chinese Exclusion Act or from Yellow Peril to Japanese Internment camps, AAPIs have fought this stereotype that we somehow don't belong because we "look different" and therefore are less American.
Election Day is when you can take a stand and demonstrate that you are just as American as anybody else. In addition to watching the NFL while drinking beer out of a red solo cup, you can show off your "I voted" sticker with pride – what's more American than that?!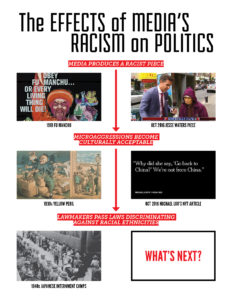 (graphic by Jessica Yeung, Design Chair)
Special thanks to Alex Shih, Jacqui Wu, and Linn Yen for edits and comments.