1. Tell us about yourself! It can be about anything – where you grew up, your professional background, your hobbies.
I was born and raised in Chicago, IL, home of deep-dish pizza, the Sears Tower (it's hard for me to call it the Willis tower!), and hot dogs with no ketchup. After completing my undergraduate degree, I found a job in New York, and I've been here since! I currently work as a research assistant at S&P (the S&P in S&P 500). Although I work in finance, I have a deep love for art, particularly visual art. I love drawing, painting as well as reading in my free time (when I have time!). On a side note, I also really love my cat, Pepper, though she is not with me in New York at this time.
2. Why did you join TAP? What are your favorite events?
After moving to New York, I was looking to join a few groups (social, volunteer, etc.), and I particularly looked into joining a Taiwanese American organization. I literally googled "Taiwanese American Organizations", and TAP-NY came up! I subscribed to the mailing list and have been enjoying going to TAP events ever since. My favorite TAP events revolve around food, since I love food! The Te Company tea tasting event, the Tang Yuan workshop, and the monthly dinners have been my favorite events so far.
3. Tell us something cool that happened to you this past year.
After going to TAP events, I learned about a volunteer organization called Apex for Youth, a non-profit organization that focuses on educating and mentoring underserved Asian youth in NYC. After a current volunteer urged me to go to one of their fundraisers, I looked into possibly volunteering, since I wanted to contribute to their cause. This past spring semester, I tutored third and fourth graders at PS 124 for their middle school exams as a 4th Grade Prep tutor. From trying to get the children to focus on their practice exams (Please stop poking the classroom beetle!) to hearing one student shyly telling me that I'm their favorite tutor, I learned a lot and really enjoyed my experience with Apex. I intend to continue volunteering with them, potentially as a mentor in the future.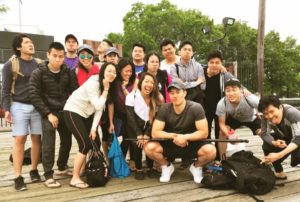 4. If we wanted to hang out, where would we find you?
Aside from TAP events, you'll find me in Chinatown often! I really like trying new restaurants and buying groceries in Chinatown. You will also find me near Flushing on Saturday mornings! I'm actually a part of TAP-NY's new dragonboat team, and we practice every Saturday morning near the Mets stadium. If anyone is interested, I would highly encourage you to contact me (or Audrey Chang!). I also frequently run along the Hudson River, especially now that the weather has been getting better.
5. What's your advice for any newer members who want to get more involved?
I would highly encourage you to come to any TAP events that you're interested in! There are always so many different events happening in any given month (sports, happy hours, dinners), so choose a few that you're interested in and attend. The TAP crowd is friendly! If you're especially worried, I would actually encourage you to attend a smaller event, like a monthly dinner, which will make it easier to get to know others.