By Tony Wu, TAP-NY Member
In this special blog post, TAP member Tony Wu tells his story of how TAP-NY played a major role in seeding his dreams, helping him find a co-founder, and enabling Nomz to help others eat well and save time through Asian recipes.
TAP EXCLUSIVE: New customers can enter "TAPNY10" at check-out for 10% off!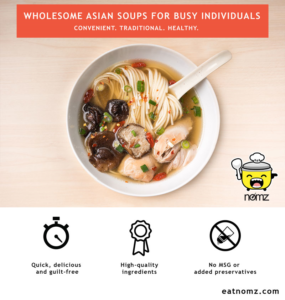 Inception
I grew up in a Taiwanese American household in Bowling Green, Ohio (population: ~32,000). My childhood was fairly standard: a variety of sports, wooden instruments, TV shows such as "The Price is Right" after school – essentially youthful idleness combined with the occasional academic activity at my parents' insistence. At home, shoes were off, the family ate together, and meals typically featured Mom's famous Asian cooking. Yet, I never attended Chinese language school. No such option in Bowling Green. Regrettable as on future Friday evenings I would be 29+ attending elementary Chinese classes in a tiny chair and similarly sized peers.
One childhood memory I will never forget is of my Mom's noodle soups. Always a massive affair of multiple stockpots (who wants to spend hours for only a few bowls?), Mom would dart between tendrils of steam while splashing pinches of spices in her bubbling cauldrons. This would leave the house with a wonderful smell, a delicious aroma of mysterious Asian ingredients that would announce to us that it was almost time for dinner.
After our meal, Mom would freeze the remaining soup base into individual containers, giving the family a quick and easy dinner option available anytime. Mom/Dad busy or gone? No problem – all we had to do was heat and eat, serving with fresh noodles. Over time we enjoyed a variety of soup recipes including beef noodle ("niu ro mian"), roasted greens with sautéed pork ("zha cai ro si") and chicken shiitake mushroom ("xiang gu ji tang"). These frozen soups would continue to deliver me happiness for the rest of my life – high school, college and beyond.
Seeding
In 2013, a friend told me about TAP's annual Entrepreneur Challenge & Competition ("ECC"), a business plan competition for ordinary people with big dreams. I was working in Ann Arbor, Michigan, and thanks to my nearby parents, my freezer was perpetually stocked with those frozen soup bases. They were quite useful in my busy life and perfect for those lazy periods when I was completely exhausted after work, basketball or Brazilian jiu jitsu. The figurative light bulb turned on when several other Asian American friends mentioned how their mom would also freeze soups of their ethnic heritage including Vietnamese Pho ("Pho Bo") and Korean Oxbone Soup ("Sul Lung Tang"). What if these frozen soups – a common practice with which many Asian Americans are familiar – were available even when our parents are far away? The first seed of what later would become Nomz was planted.
So I applied to ECC with a 15 page business proposal, flew to New York for a 2nd round interview panel and several weeks later flew back to present to a crowd of ~150+ about why I was tremendously excited about Asian Americans, and how Nomz would be the Asian meal solution to their time-starved lives. The thesis was simple:
1) Professionals have limited time and find it difficult (or lack knowledge) to cook daily
2) Daily take-out can be uninspiring and heavy with grease, salt and MSG
3) Solution? Wholesome Asian noodle soups that are accessible and prepared within 8 minutes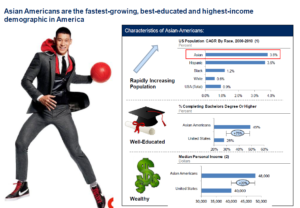 (Jeremy Lin! A slide from our final presentation)
While quick noodle soup meals were hardly innovative, I felt many Asian Americans including myself were underserved by what was available. Recipes and brands seemed to divide along two dimensions: P.F. Chang General Tso-type recipes for mainstream America or foreign imports containing unreadable packaging, unfamiliar ingredient lists and high levels of sodium/MSG.
The crowd loved Nomz, and TAP granted us $1,000 to seed our dreams. I always believed in the vision, yet it was the first time I witnessed a large-scale reception outside of miniature Shark Tank sessions with family, friends and beta testers. Although only a crude validation, it felt great.
Thanks to TAP, we now had our first emotional and financial push to fly. While some friends urged me to spend the prize at Circle, I squirreled it away for the Nomz future.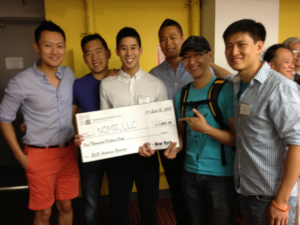 (Nomz's first giant check! Dear friends and I at the ECC finals)
Connecting
Emboldened by the ECC experience, I moved to New York City in early 2015 to explore Nomz. Now what? Conventional wisdom dictated I find a co-founder. So I searched via a variety of methods: networking, contacting culinary schools, cold-calling popular restaurateurs and food authors. No dice. In the end, TAP came through again and indirectly connected me with Eric, who would later become a Nomz co-founder.
In May 2015, TAP partnered with wonderful author Cathy Erway to showcase her new book "The Food of Taiwan" at a lively bar in Gowanus, Brooklyn. As people mingled before the event kicked off, I was busy hustling. To anyone who cared to listen, I would describe what I was working on – "guilt-free ramen!" – and show folks my product mock-up, an empty pint container with a taped-on Nomz label.* Eventually, I made my way to Eric who was sitting with Crystal Tang, the TAP chair for ECC, and her fiancée. Initial introductions were made, Eric commented that he also loved noodle soups and following coffee the next week, we were off to the races.
Were it not for TAP, it's uncertain whether our paths would have crossed. On its website, TAP emphasizes its commitment to fostering connections within the community – whether it be social, professional or cultural. They certainly did a great job with us.
Enabling
Today Nomz is no longer an idea but a small business with a mission: To be the solution when Mom, Dad and home-cooked Asian food are far away. Currently serving Manhattan with our Chinese chicken shiitake mushroom soup, Vietnamese beef pho and other classic recipes including Korean oxbone soup on the way, we look forward to the next step of our journey knowing TAP is in our corner. Thanks, TAP.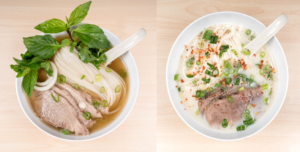 Tony Wu
Nomz Inc., Co-Founder
* Note: the constant hustling has not changed, but now I typically wear a Nomz apron, and our product mock-up is classier. Hope to see you around!